Truths About Schooling During COVID-19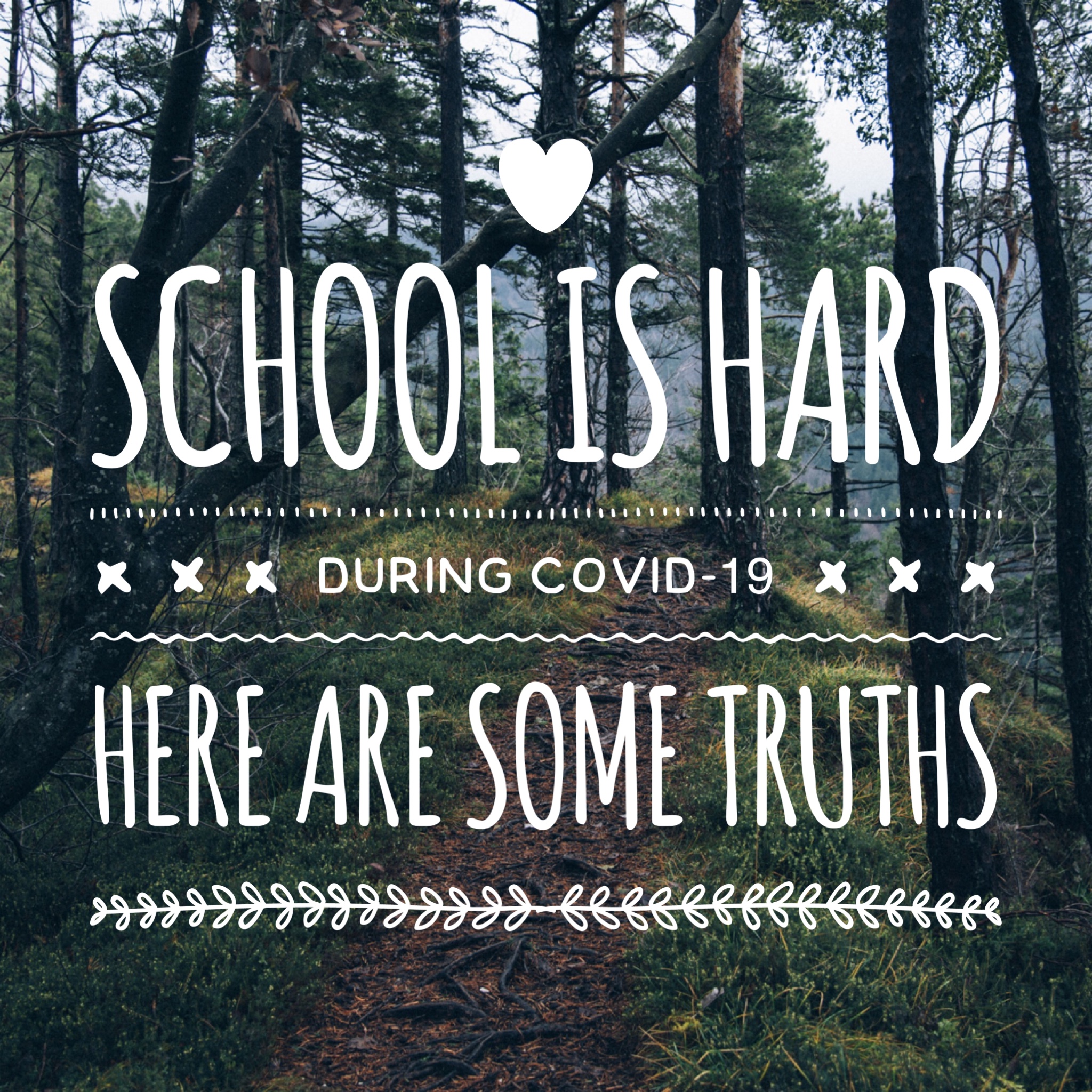 First of all, let's be clear: This is not homeschool.
We are six weeks into COVID-19 distance learning and I feel more overwhelmed with educating my kids than I ever did as a homeschool parent. The schools are calling, texting, and messaging repeatedly, with updates, reminders, and new ideas on how to educate our children at home. It's helpful, and it's necessary…but it's also overwhelming.
I homeschooled my children for eight years. They've been in public school for the last three. With this kind of background, you would think I'd take this change in schooling in stride, but I am here to say: I'M HAVING A HARD TIME WRAPPING MY BRAIN AROUND COVID-19 SCHOOLING!
When I homeschooled, I spent hours researching curriculum and planned school for each of my children, modifying based in their needs as we went through our school year.
When I sent them to public school, I did my best to reign in my control-freak nature as they learned how to navigate teachers who were not me…the hard ones who challenged their skills; and the ones who assigned consistent busywork.
COVID-19 school is a weird hybrid of the two. Though my kids are enrolled in public school, they must do their school work at home. In our school system, the work is optional, and it's not graded. We can log in to see the assignments…or not. Though this alleviates the pressure of worrying about their grades, it introduces an entirely different type of pressure.
My lazy parent (and child) voice says, "Do they actually need to do the assignments? Why make them, if they aren't graded? None of their friends are doing them…"
The over achieving voice says, "Of course they need to do their assignments! If the teachers are still giving assignments, my students should be doing them! They are home all day anyway…what else do they have to do?"
The hard part is that, unlike when I homeschooled, I now have a full time job. My husband works full time from home. OUR work has continued, and is busier than ever…and now we need to add schooling into the mix. The opportunity for mom guilt is endless, and at times, it feels suffocating.
As I pondered the overwhelming emotions that have come with parenting during this season, I asked myself, "What is true?" And I began to make a list. And as I looked at the list, I thought other parents might find it to be helpful too. That's why I'm sharing these truths about having children during the COVID-19 pandemic:
Truth #1: This is temporary. It will not last forever. School and normal life will someday resume to a (new) normal. Take heart.
Truth #2: Our kids are learning a lot while living through an historic event, and watching how we and the world around us respond. They notice EVERYTHING. Don't freak out.
Truth #3: This virus has upended every area of the WORLD…So it makes sense that this aspect of our lives feels so unsettled. We aren't alone.
Truth #4: My kids are learning, growing, and are spending more time together than they have since they started public school three years ago. They are closer, and our family is closer, than when the safer-at-home orders went into effect. This is a gift.
Truth #5: The schools truly have our best interests in mind, and I am so thankful that they are diligently trying to instill some normalcy into my children's lives, when everything else is abnormal. This is grace.
Truth #6: IT'S NOT ABOUT ME, or my kids, or school! With COVID-19 risking so many lives, cancelling school and having to figure out how to do life in a new way is a necessary sacrifice. My kids being at home means life for someone else. This makes the discomfort and confusion worth enduring. This is necessary.
Truth #7: THIS IS NOT HOMESCHOOL…but it is a chance to approach "school" differently (which is my next post!). As I told my kindergartener this morning, learning doesn't just happen at school. It happens everywhere. Sure, he has assignments from school, but he also has been building impressive Lego creations, playing ball with his brother and Daddy, and studying the bunnies who live in our backyard…and those are all fantastically worthwhile for a six-year-old to do!
Truth #8: Parents, we are doing something unique, and hard, and rather illusive: trying to come alongside our kids during a difficult time in the world. It's going to look different in every family, because every family has different needs and demands. We need the peace of knowing that, with school, and with every aspect of our lives, all we can do, is all we can do. And truly, that must be enough.