Focused On the Track Ahead
It was 5:30 in the morning and I was half a cup of coffee into the day, as I sat, contemplating the day's requirements. Even though I had a full night's sleep, I felt weary and tired. Tired of being productive. Tired of navigating the ever-evolving school schedules. Tired of wondering whether it's safe to go out to eat, or if we should just stay home. Tired of politics. Tired of change. Sound familiar?
As I sipped my coffee, assessing the year in exhaustive detail, I asked God where to get the energy to move forward, when I was still bearing the sore muscles and bruises of 2020. As I prayed, a picture came to mind that renewed my energy and my hope. Maybe it will help you, too.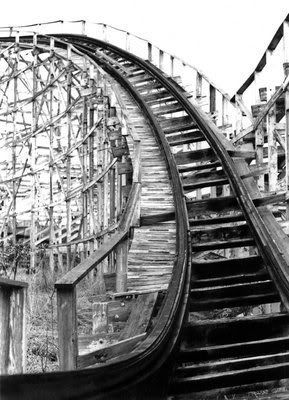 I saw a wooden structure like an old roller coaster or mining track. Behind me, the coaster was in ruins; large timber beams scattered and stacked haphazardly. If I stepped backward, they could become dislodged and hit me. If I lingered too long, trying to understand what went wrong, or how it fell apart, I would be overwhelmed at the chaos and destruction I had just come through. The track had been solid as I rode, but at the place where I stood, all I could see behind me was destruction. It held together just long enough to carry me through.
Ahead of me, the track was still whole, the beams wrapping into a dynamic, circular, and purposeful pattern. This wasn't a new track; it was a continuation of the track I was already on. The car I was to ride in was placed exactly at the beginning of this track. It could just as easily roll forward into safety; or backwards into peril. It was dependent on where I focused.
You see, the past is gone; nothing can change or fix it. But the future (the track ahead) is hopeful, with purposes yet to be discovered. We aren't supposed to look back. God doesn't expect us to carry the long road, the hurdles, and the assignments of the past into the new year. Instead, God is calling us to stand firmly in our life assignments, as they are right now, moving forward focused on the path He has for us in this season, and in this time. It's a different path than six months ago; or a year ago; or five years ago. And it will continue to change, as we move into the future.
Yes, there were events, hurts, and struggles in 2020 that left us a bit battered. But they've also left us with a sharpened focus, new strength, and tenacity. We can start 2021 by humbly taking note of all we've overcome. 
Friends, there is a path ahead! The steady, solid track that stays constant through every chapter is God, His faithfulness, and His truth. As long as we stay focused on His path for us, we will move forward in peace, even if the track behind us falls into pieces. On this path, there is no fear, and He promises to continually renew our strength. After all, at the end of the line, when everything else has fallen away, this is the exact path that will lead us safely Home.
Isaiah 40: 28-31 Do you not know? Have you not heard? The Lord is the everlasting God, the Creator of the ends of the earth. He will not grow tired or weary, and his understanding no one can fathom. He gives strength to the weary and increases the power of the weak. Even youths grow tired and weary, and young men stumble and fall; but those who hope in the Lord will renew their strength. They will soar on wings like eagles; they will run and not grow weary, they will walk and not be faint.