The Year My Life Was Liquidated
We acquired every piece, every item, so deliberately. So much thought went into each purchase: the price carefully researched; the usefulness proven; the purchase made. Time and time again, thousands of times…and all of those things became the bones of our business.
Most people don't experience the stuff of their lives being liquidated, half way through life. It's something reserved for their children, after the death certificate is signed, and the burial is complete.
For Rich and I, it happened in 2017, at the ages of 44 and 45.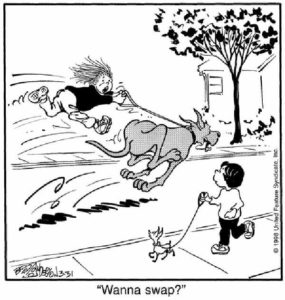 Business was great…ever growing, ever expanding. We saw new opportunities, and grew our offerings; hired more staff; and the business very much took on a life of its own. Like the old cartoons of the giant dog Marmaduke, who dragged his owner around by the leash; this is what our business became. It had needs and necessities that were ever-present and unpredictable. For a long time, we were able to provide for those needs…
But California continued to increase minimum wage, and therefore all wages…a very hard thing for a low-profit-margin business like ours. The cost of our materials increased every year, in a market that did not allow price increases. Our services cost the same or less in 2017, than they did when we launched the business in 1998. We had debt that, no matter how much we grew the business, we couldn't quite seem to pay back. I can't count how many Dave Ramsey inspired "debt repayment plans" I came up with in spreadsheets, only to have unexpected expenses render it obsolete the next month.
2015 was our best year ever. 2016 was the worst…until 2017, which put the nails in the coffin and we closed our doors in the spring of that year.
Ecclasiastes 7:14 When times are good, be happy; but when times are bad, consider this: God has made the one, as well as the other.
As I inventoried our equipment as we prepared to sell to another lab, I thought of all of the stories: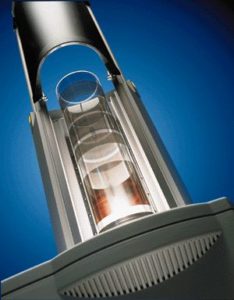 The Tango Drum scanner…the first major purchase we made…it committed us to this path more than any other decision we made in the early days. It led us to hire our first employees, and placed us on the map of digital imaging labs. It was $72,000 lease that we took out before we owned a home. When we bought it, I didn't know the difference between a $1 buyout lease, and a "fair market value" lease, which requires a 20% buyout at the end. By the grace of God, we somehow dodged the bullet of having to pay the 20%. I'm still not quite sure how that happened, though it was likely because we took out another lease, for another expensive piece of equipment.
So it went, year after year, for 19 years. Printers that cost nearly as much as our first house; mounting presses; a CNC router; work tables designed and constructed by hand, per our specifications; a half dozen self-healing mats that could withstand the blades of the box cutter knives we used to package hundreds of thousands of shipments sent across the country and around the world; the giant storage cabinets an eager intern pieced together for us, surprised we trusted her with power tools; the hack saws we used to cut down tubes for shipping rolled prints to our clients…so many stories, contained within these things. I wanted to write down the story for each item, so the person who bought it would know the history; the background to that unique piece…what each piece did, and what it meant to us, right down to the little drawers that perfectly housed all of our paper samples. I was so happy when I found those in the Dick Blick catalog.
But the book is over. The book of our small business, which employed over 100 people in its lifetime, has been completely written. The things sold off to someone, who will further liquidate it, and the stories have become unwoven and lost.
Except in my mind, and in my memory.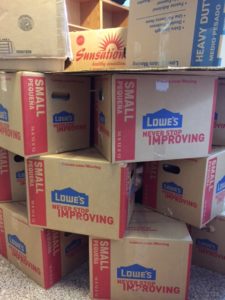 I've received a great lesson in the impermanence of stuff. A man can toil every day for 20 years, and all he is left with in the end is nothing. All of the years of worry and stress and agonizing over the best inkset for the inkjet prints and metal prints amounted to a few dozen clients who miss us, relationships with some of our former employees, great memories of beautiful projects we printed, and really, truly…nothing else.
Ecclasiastes 2: 22-23 What do people get for all the toil and anxious striving with which they labor under the sun?  All their days their work is grief and pain; even at night their minds do not rest. This too is meaningless.
The stuff was sold.
The business ended.
And oddly enough…
Life went on.
Yes, indeed, something new has begun. New things. New dreams. New items to collect; new places to explore; a new set of memories to make.
It's odd when you realize you needed to lose everything. You needed to let go of the life you once held so dear, to take hold of something wonderful, fresh and new. The stuff of my former life is gone, and so many treasures…but my heart is singing in an entirely different way, and to a much purer tune.
There are things I wish could've ended more smoothly as the business wound down… but, just like the entire story of our business, the ending was not mine to write. My job was to live it out as best I could, holding onto God for dear life. This is what we did. Every. Single. Difficult. Day.
This is what I continue to do, despite the uncertainty, and the fact that we are living one day and one step at a time. God is writing something new. Something good. And He loves us. His plans for us are perfect, and I can trust in Him as he unveils the next steps of this life.
Psalm 40: 1-3 I waited patiently for the LORD; he turned to me and heard my cry. He lifted me out of the slimy pit, out of the mud and mire; he set my feet on a rock and gave me a firm place to stand. He put a new song in my mouth, a hymn of praise to our God. Many will see and fear the LORD and put their trust in him.