Following God When It Doesn't Make Sense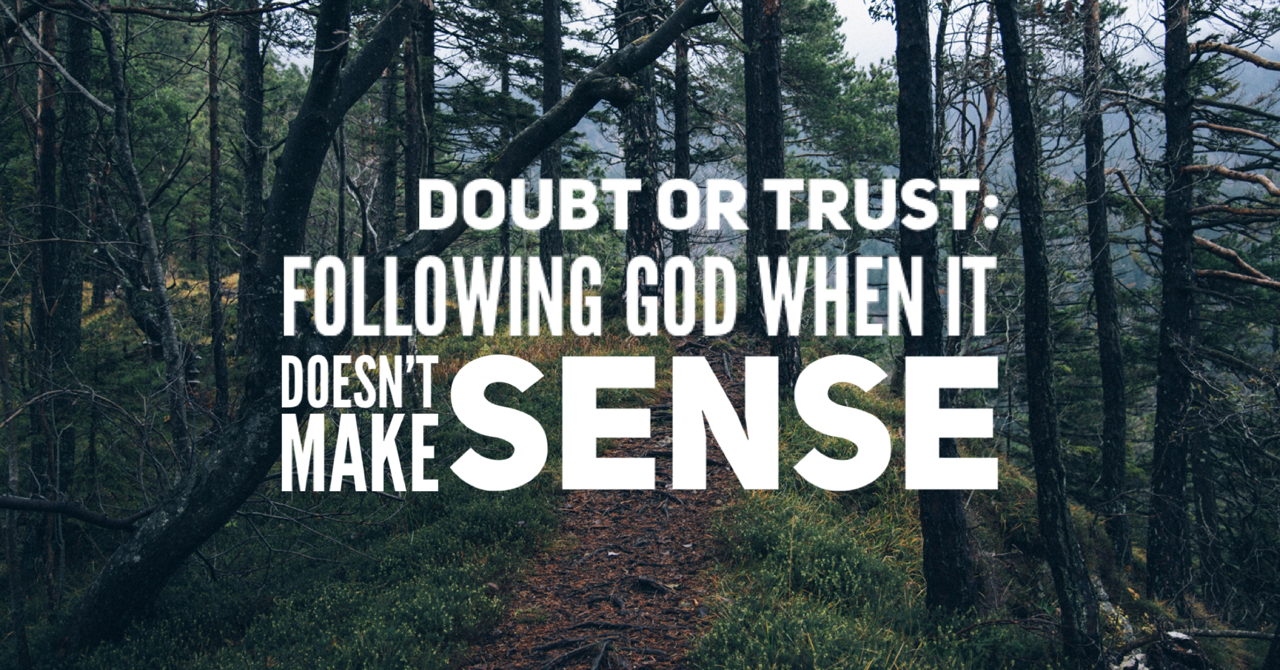 It doesn't make sense to be an artist.
Exchanging a high-paying corporate job for camera gear and an altruistic assignment doesn't sound wise, but I've known many who have done exactly that.
Moving across the country with no job, not much money, and three kids sounds irresponsible, but it was clear that's exactly what we were supposed to do.
What if what God is telling you to do makes no sense, could financially ruin you, and seems to go against common wisdom?
Here's what you do: You pray, you trust, and you go.
Here is what you don't do: Doubt.
I've been thinking a lot about trust versus doubt lately. I used to think that considering doubts, worries and fear would make me more prepared for when the inevitable fall would happen, whatever that may be. It was as if it was part of doing due diligence; fully researching the pros and cons of each idea before I act.
Here's what it looks like:
God puts a new idea in my head. It grows in my heart. I get excited, and start to think and dream into it even more, and imagine life in a new way…and then HARD STOP…I consider the doubts. I list the "What ifs":
What if I fail?
What if this is harder than I think it will be?
What if this turns out to be a REALLY BAD idea?
What will people think of me? I mean it's a crazy idea…
Am I crazy?
The list goes on…
I'm realizing that this train of thought does nothing to prepare me for failure OR the future. Instead, it quickly paves the way towards despair and giving up. It leads to complacency and a feeling of numbness…which makes me ask:
What if the cost of NOT following God is distancing yourself from His plans, His voice and your true purpose?
What if staying safely in the known entities of your life leaves you very comfortable, but increasingly dead in your heart?
What if there is something new, right around the corner, if only you let go of the voices of doubt that echo in your brain?
And who exactly owns those voices, anyway? Who are the people who speak light and hope into your life, versus doubt and fear? Notice the contrast, and what that does to your heart, your relationships and your inner thoughts. Choose who you open your heart to.
And perhaps most importantly: What if doubt is a form of disobedience; a way to delay doing what I know I need to do? What blessings are my family and I missing out on, because I'm following my own wisdom instead of God's leading?
The Bible is full of people who initially doubted or resisted God's call on their lives (Moses, Jonah, Gideon), as well as those who didn't (Noah, Mary). I want to be like the ones who acted on faith, knowing that the One who called them would be the One who would work each detail out for our good.
What about you? Where do you feel the pull of doubt versus trust in your life? Do you feel God leading you in a new direction, but are afraid to take the next step? Or, do you feel God's peace in your current situation, and instead of resting in that contentment, do you let doubt say you should be doing something else?
Let's notice the voice of doubt versus truth, and choose to listen to truth. Let's follow peace instead of fear. Let's allow God to write our steps, and follow his still small voice as one day unfolds into another. Because the safest, most secure place we can possibly be is within God's good and perfect will. That's where you will find peace in your heart, no matter how crazy it may look to the rest of the world.
Matthew 21:21 – And Jesus answered them, "Truly, I say to you, if you have faith and do not doubt, you will not only do what has been done to the fig tree, but even if you say to this mountain, 'Be taken up and thrown into the sea,' it will happen."